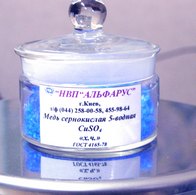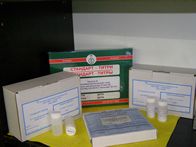 The scientific and production enterprise LTD "SPE " ALFARUS is a manufacturer of chemical reagents and offers your enterprise ALL necessary for your control and analytical laboratory. The products of our company comply with the regulatory and technical documentation in force in Ukraine.
Any packaging is possible
If you did not find what you need on our list, do not worry - call us and we will help you. Our enterprise makes reagents with the given parameters upon the order. Do you Need Imported Reagents? We will deliver.
Attention!!! There is a flexible system of discounts
Delivery time from 1 to 25 days, depending on the complexity of the order. The item is shipped after 100% prepayment, however:
- if you plan to order one or another type of product on our regular basis, you need to submit an official order and we will start work for you after 50% prepayment;
- If you are our regular customer, then some types of products may be delivered with postpone payment upon agreement.
We can send you a finished order by carrier, Ukrposhta, etc. by Your choice. When ordering from 5000 UAH. and above, as well as to regular customers, it is possible to deliver in Kyiv by means and transport of an enterprise.
Toxic and poisonous substances, flammable and explosive substances, precursors –
SELF-DELIVERY
WARNING!!! The above-mentioned substances are not released to private individuals! The release of precursors is possible only with a license
Laboratory accessories
NAME
Crucible Tongs big
Crucible Tongs small
Bottle Brush
Flasks Brush
Brash for tubes average
Brush for tubes small
Wash Bottle PE, 250 ml
Wash Bottle PE, 500 ml
Scalpel Medical
Tweezer anatomical 100mm
Tweezer anatomical 150 mm
Tweezer anatomical 200 mm
Tweezer surgical 150 mm
Tweezer surgical 200 mm
Tweezer dental
Ear forceps
Surgical scissors straight 150 mm
Surgical scissors straight 180 mm
Surgical scissors straight 240 mm
Surgical scissors curved 180 mm
Surgical scissors curved 240 mm
Eye scissors straight 115 mm
Eye scissors curved 115 mm
Scarificator "Pike"
Bunsen Stand Shl-1
Bunsen Stand small "Simax"
Bunsen Stand big "Simax"
Pear for pipettes № 20 ml
Pear for pipettes is small number 1 35 ml
Pear for pipettes average number 3 100 ml
Pear for pipettes large number 6, 210 ml
Bulb-Type Safety Pipet Fillers
Rubber hose 5/8 (medical tube)
Rubber hose 8 / 11,5
Rubber hose 10/14
Rubber hose 12/17
Rubber hose 14/20
Rubber hose 20/25
Rubber Vacuum Hose 6/12
Rubber Vacuum Hose 7/14
Rubber Vacuum Hose 9/18
Rubber Vacuum Hose 11/23
Rubber Vacuum Hose 14/28
Tube silicone technical, diam. 3 mm
Tube silicone technical, diam. 4 mm
Tube silicone technical, diam. 6 mm
Tube silicone technical, diam. 8 mm
Tube silicone technical, diam. 10 mm
Tube silicone technical, diam. 20 mm
Ring under the Buchner funnel, diam. 55 mm
Ring under the Buchner funnel, diam. 65 mm
Ring under the Buchner funnel, diam. 68 mm
Ring under the Buchner funnel, diam. 80 mm
Kit of rings in the Buchner funnel
Titanium Pencils (5 pcs.)
Glass pencil (pack 20pcs)
Oil for vacuum
Spatula pharmacy 144 mm
Spatula of general purpose (mrt.)
Spatula dental (met.)
Glass marker 5 mm
Glass marker 1 mm
Tape Parafilm M (98mm * 40m)
Detergents
Cleaners
Go back